Where to watch Steelers/Bills plus fast news and notes for Sunday's game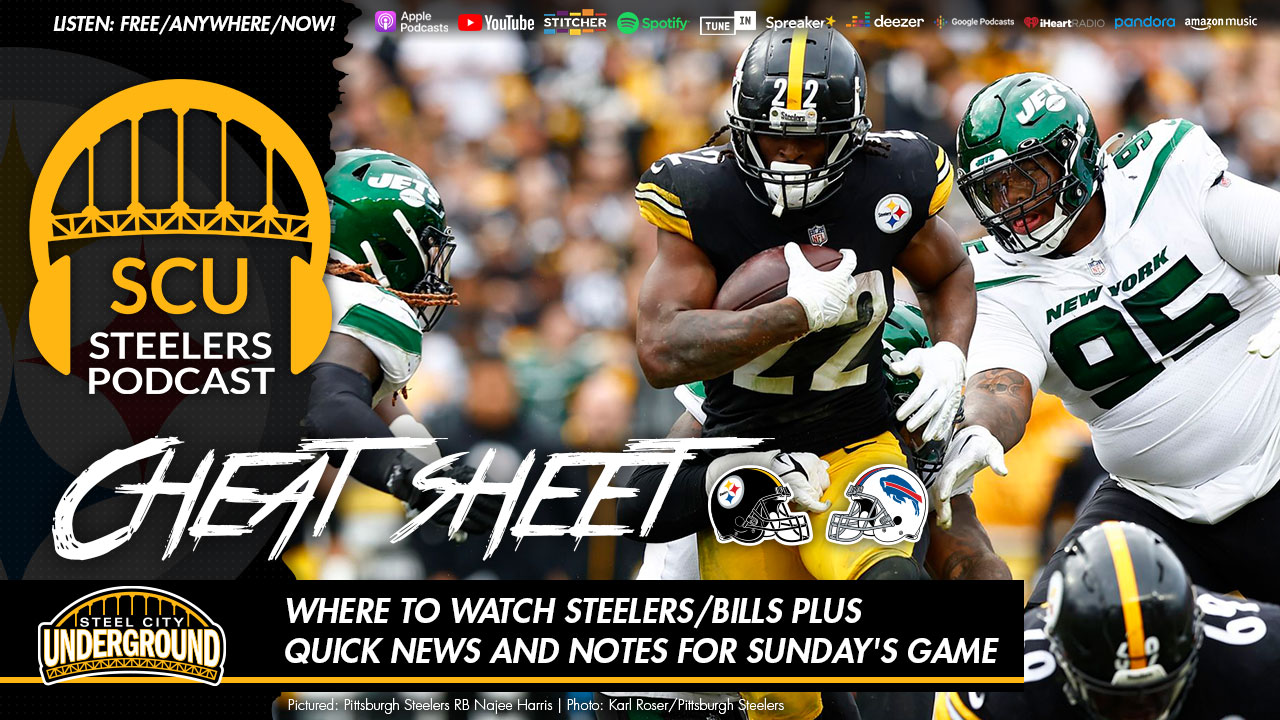 Welcome to SCU's shorter-format "Cheat Sheet" podcast, as Joe Kuzma dives into some fast facts about Sunday's game between the Pittsburgh Steelers 1-3 and the Buffalo Bills 3-1.
This program focuses on injury updates and other news, where to watch or listen to the game, as well as a few little tidbits best served as a companion to our full game preview which can be found at SteelCityUnderground.com.
Note: For more in-depth coverage, we encourage you to check out our other podcasts throughout the week, with pre-game, post-game coverage and more. (Don't forget to like, comment and/or subscribe!)
Questions or comments?
Call the Steel City Underground Fan Line and ask your question on our podcast! The best questions will be answered in an upcoming episode.
– Dial (203) 900-4SCU (4728) from any number and leave your name, location and a question about our auto attendant.
– Text (203) 900-4SCU with your question OR
– Email [email protected]
Subscribe to our podcasts:
Apple Podcasts/iTunes – https://itunes.apple.com/us/podcast/steel-city-underground/id1086142389
Google Podcasts/Google Play Music – https://play.google.com/music/listen#/ps/I477fe5rmf4c36rnymjsqe7hvqi
YouTube – https://www.youtube.com/c/Steelcityunderground
Stitcher – http://www.stitcher.com/podcast/steel-city-underground
TuneIn – http://tunein.com/radio/Steel-City-Underground-p836074/
Speaker – https://www.spreaker.com/show/2600913
iHeartRadio – https://www.iheart.com/podcast/steel-city-underground-podcast-28337685/
Spotify – https://open.spotify.com/show/4Yacx1utIsGBZHZdOFpZ2y
Deezer – https://www.deezer.com/show/1439702
Amazon Music – https://www.amazon.com/Pittsburgh-Steelers-Podcast-Steel-Underground/dp/B08K57Y4X6
Pandora – https://www.pandora.com/podcast/pittsburgh-steelers-podcast-steel-city-underground/PC:43358?part=PC:43358&corr=podcast_organic_external_site&TID=Brand:POC:PC43358:podcast_organic_external_site
Relate:
Facebook – https://www.facebook.com/steelcityunderground
Twitter- https://twitter.com/steelcityundrgr
YouTube – http://www.youtube.com/c/Steelcityunderground
Instagram – https://www.instagram.com/steelcityunderground/
Web – https://www.steelcityunderground.com/
SCU Store and Support:
Amazon Prime Store – https://amzn.to/30owltC
TeePublic Store – https://www.teepublic.com/stores/steel-city-underground?ref_id=24847
PayPal donation – https://bit.ly/3FfGJmn
Podcast: play in a new window | Download (Duration: 24:15 — 33.6MB)