Weekly WTF: you only had one job! Do your job!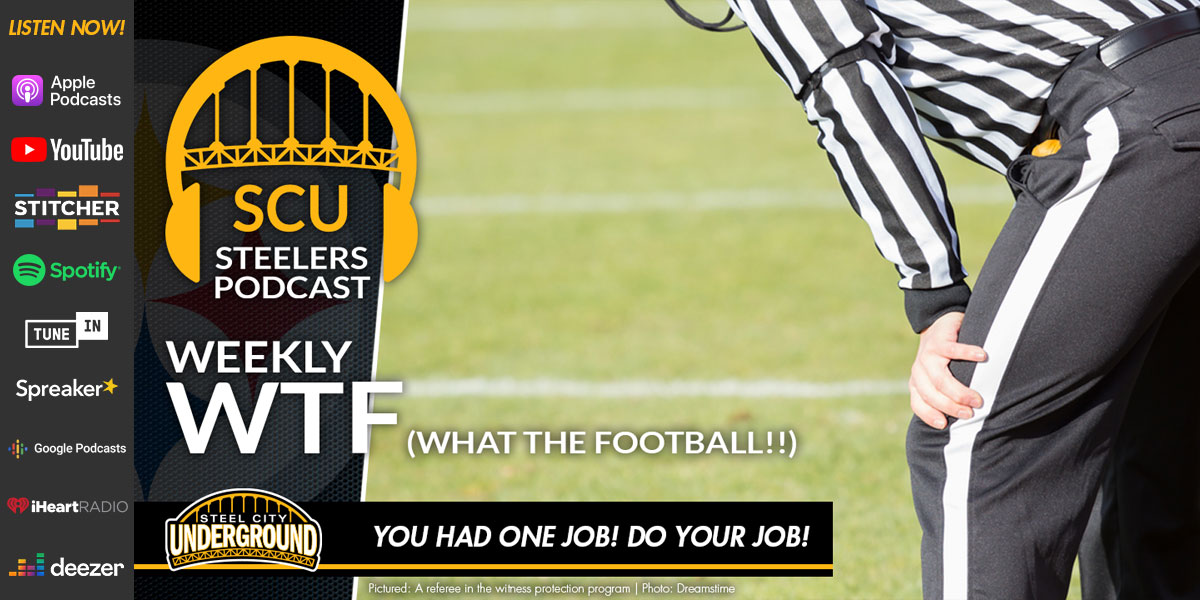 Terry Fletcher returns with his WTF Week 3 rants in the NFL.
It all started with the Pittsburgh boo-birds with the Steelers, who were imposed with a terrible play call in the 4th and a miserable performance against the Cincinnati Bengals.
Terry also calls out to the refs, who weren't doing their job – missing everything from an obvious game penalty delay against the Ravens, to other penalties and missed opportunities that cost some teams a win this weekend.
Needless to say, it was an epic WTF week in the NFL, capped off by Tom Brady who finally lost a game for the first time in a long time!
Double your deposit with MyBookie
Visit https://bit.ly/MB-SteelCity and use promo code STEELCITY to get started.
Questions or comments?
Call the Steel City Underground Fan Line and play your question on our podcast! The best questions will be answered in a future episode.
– Dial (203) 900-4SCU (4728) from any number and leave your name, location and a question on our auto attendant.
– Text (203) 900-4SCU with your question OR
– Email [email protected]
Subscribe to our podcasts:
Apple / iTunes Podcasts – https://itunes.apple.com/us/podcast/steel-city-underground/id1086142389
Google Podcasts / Google Play Music – https://play.google.com/music/listen#/ps/I477fe5rmf4c36rnymjsqe7hvqi
YouTube – https://www.youtube.com/c/Steelcityunderground
Stitcher – http://www.stitcher.com/podcast/steel-city-underground
TuneIn – http://tunein.com/radio/Steel-City-Underground-p836074/
Spreaker – https://www.spreaker.com/show/2600913
iHeartRadio – https://www.iheart.com/podcast/steel-city-underground-podcast-28337685/
Spotify – https://open.spotify.com/show/4Yacx1utIsGBZHZdOFpZ2y
Deezer – https://www.deezer.com/show/1439702
Connect:
Facebook – https://www.facebook.com/steelcityunderground
Twitter – https://twitter.com/steelcityundrgr
YouTube – http://www.youtube.com/c/Steelcityunderground
Instagram – https://www.instagram.com/steelcityunderground/
Web – https://www.steelcityunderground.com/
Podcast: Play in a new window | Download (Length: 21:09 – 29.3 MB)