Tennessee Jed Fisher releases New Beginnings with the help of a Bluegrass All-Star band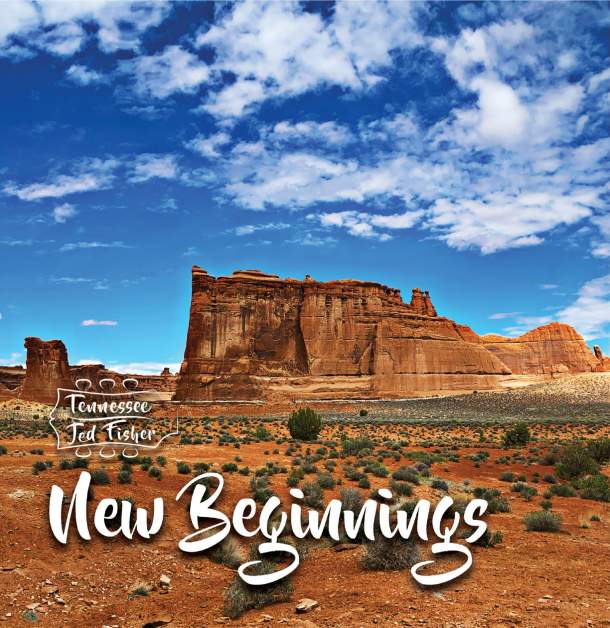 Tennessee Jed Fisher released their latest album New start with the help of a group of stars. Jed builds his music around his strong hand and fiery vocals, then adds the fireworks by adding a host of Grammy and IBMA award winners/nominees into the studio.
"New Beginnings is a mostly autobiographical account of my experience with Covid, the breakdown of my ensuing new marriage and, most importantly, my choice to embrace the possibilities of a fresh start amid the chaos. got back together with banjo phenom and co-producer Scott Vestal (formerly of the Sam Bush Band, Sturgill Simpson Bluegrass Band) in his studio in suburban Nashville, TN, and we assembled an all-star bluegrass band for the recording. The recording itself took place over three separate sessions, resulting in 2 singles released over the past two years, both included on the new album," said Jed Fisher.
The first single, "The World That Cried Wolf", was released in early 2020, accompanied by a stop-motion puppet music video (180,000 views on Facebook), at the start of the pandemic. The lyrics thread the political needle, leaving the interpretation up to the listener while offering a scathing analysis of today's society, "it doesn't matter which side you choose". It features Grammy-nominated duo Rob Ickes (Dobro) and Trey Hensley (guitar, harmony vocals), along with Scott Vestal (banjo), Deanie Richardson (Sister Sadie) (violin), and Jacob Burleson (Volume Five) (mandolin, bass) as well as Josh Shilling (Mountain Heart) on vocal harmony.
The album's title track and second single, "New Beginnings", was released in 2021, accompanied by a lyric video that recounts "breaking up my marriage and choosing to start over". Session two featured a core group of Jed on guitar and vocals, Scott Vestal (banjo, synth-banjo), legendary session bassist and former Del McCoury Band member Mike Bub (bass), Grammy-nominated member ® from all-girl bluegrass band, Sister Sadie, Deanie Richardson (fiddle), Mark Schimick from Songs From the Road Band (mandolin, harmony vocals), James Seliga from the Billy Droze Band (mandolin) and new member of the Old Crow Medicine Show, Mason Via (harmonic vocals).
The album also includes the neo-traditional song, "Devereaux Run", co-written with 2020 IBMA Gospel Song of the Year winner Barney Rogers. It's a moonshine song from the perspective of the semi-mythical sheriff of Cherokee County, Devereaux Birchfield, a character from old North Carolina folklore that Barney had wanted to write about for some time. They were going to buy it from someone more famous, but ended up recording it ourselves in the end. Mark Schimick's harmony voice gives it an authenticity that Jed never could have hoped for when he and Barney were writing it. They plan to release it as the last single from the album in a few months.
His latest single from the album, "House On Wheels", is a motorhome and van love story about how he met his current partner and decided to move into a motorhome full time. so they can travel the country and live like retirees. before their retirement.
List of tracks:
Who We Are (Instrumental Fade) (0:40)
New Beginnings (3:24)
House on Wheels (3:38)
Drive my life away (3:29)
Bridges (4:57)
Devereaux Race (3:48)
The Devil's Deal (If I Were Johnny) (3:54)
The World That Cried Wolf (5:00)
Now that you have me (2:35)
Norwegian Wood (3:35)
Who we are (4:20)
All songs written by John Eddins Fisher except "Drivin' My Life Away" (Eddie Rabbitt, Even Stevens, David Malloy), "Norwegian Wood" (John Lennon, Paul McCartney) and "Devereaux Run" (John Eddins Fisher, Barney Rogers )
The musicians:
TENNESSEE JED FISHER – guitar, lead vocals and harmony, percussion SCOTT VESTAL – banjo, banjo synthesizer
MICHAEL BUB – double bass
DEANIE RICHARDSON – violin (tracks 2, 4, 5, 6, 7, 8, 10)
JASON CARTER – violin (Tracks 1, 3, 9, 11)
JAMES SELIGA – mandolin (Tracks 1, 3, 5, 9, 10, 11)
MARK SCHIMICK – mandolin (Tracks 2, 4, 6, 7), harmony vocals (Tracks 4, 6) MASON VIA – harmony vocals (Tracks 2, 10)
ROB ICKES – resophonic guitar (Track 8)
TREY HENSLEY – guitar and backing vocals (Track 8)
JOSH SHILLING – harmony vocals (track 8)
JACOB BURLESON – mandolin and bass (Track 8)
Special thanks:
Scott Vestal, Michael Bub, Carrie Taylor, Blake Vance, Matt Grady, Julia and TJ Cellery, J Stephen Fisher, Brad Davis, Ty Gilpin, Barney Rogers, Kevin Morrow, Michael Johnson, Jim Andrews, Maureen Spence, Stephanie Mayo, Patti Chavez , Ernest Cox, Eddie Carter, Joe and Holly Brantley, all the musicians involved in the recording, my family and friends, and everyone who has supported my career for all these years.