SSSB offers a treat for Valentine's Day February 20 | Lifestyles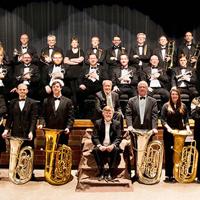 It's Sunday, February 20, and a week after the disappointment or the euphoria of the Superbowl depending on whether you are a fan of the Bengals or the Rams!
Now is the time to get off the couch and be entertained by the region's premier professional musical ensemble, the Southern Stars Symphonic Brass. Their motto is "Premium Entertainment", and you won't be disappointed with the quality of their presentation and wide selection of music to keep you coming back for more.
The band consists of 30 musicians who come to Crossville for rehearsals and gigs from the Nashville, Murfreesboro, Cookeville, Chattanooga, Crossville, Knoxville and SE Kentucky areas. The SSSB presents its "Valentine Treats" concert on Sunday, February 20 at 3 p.m. in the 1,200-seat auditorium at Stone Memorial High School in Crossville on Cook Rd.
This concert will feature music "from the heart" that will have meaning for young and old residents who will remember their various crushes and romances over the years.
Concert selections will include "Essence of Brass"; "Cute," a swing tune by Neil Hefti; "You Raise Me Up," Euphonium Soloist Briana Englebert, Vogt; Walk "La Belle de Chicago" by John Philip Sousa; "I Promise You" by Gustav Holst; "Friend Like Me" from Aladdin, bass trombone solo by Chuck Lyons; "Burning Love", an Elvis hit song; "Let's face the music and the dance", an aria by Irving Berlin; "Hard to Say I'm Sorry", hit song by the band Chicago of the 80s; "I've Got You Under My Skin", flugelhorn solo by Chris McCormick; "If We Hold On Together," an Emmy Award-winning song; and "De-Lovely", a Cole Porter medley.
The concert will also include a tribute to Tracy Luna, tuba, founding member of the SSSB for 14 years, who recently passed away at age 48 from her battle with pancreatic cancer. The group will perform the iconic march "Them Basses" in memory of Luna. The "Tracy Luna Scholarship Fund" is being established for eligible students at DeKalb County High School, where he served as band manager, for those who will be pursuing a degree in instrumental music at a post-secondary institution. A donation to this Southern Stars Symphonic Brass fund will be made at this concert.
Tickets for this concert are currently available at the following outlets: First National Bank of TN branches in Crossville and Fairfield Glade; SDP Financial Planning at the Village Mall in Fairfield Glade; and Bed & Biscuit Kennel off Peavine Rd. Students are admitted free and concert tickets for adults are $22.
A "short season" ticket for the concert on February 20 and the last concert of the season on May 22 is a bargain at $35.
Sponsors for this event are: Bed & Biscuit Kennel (season sponsor); and concert sponsors Mary Helen McHugh of Better Homes & Gardens/Gwin Realty; Gordon Atchley – Farm Bureau Insurance; Tim & Sue Tewalt; and Bob & Jaye Emrick.