Presentation: Katie Gregson-MacLeod + her song "Complex".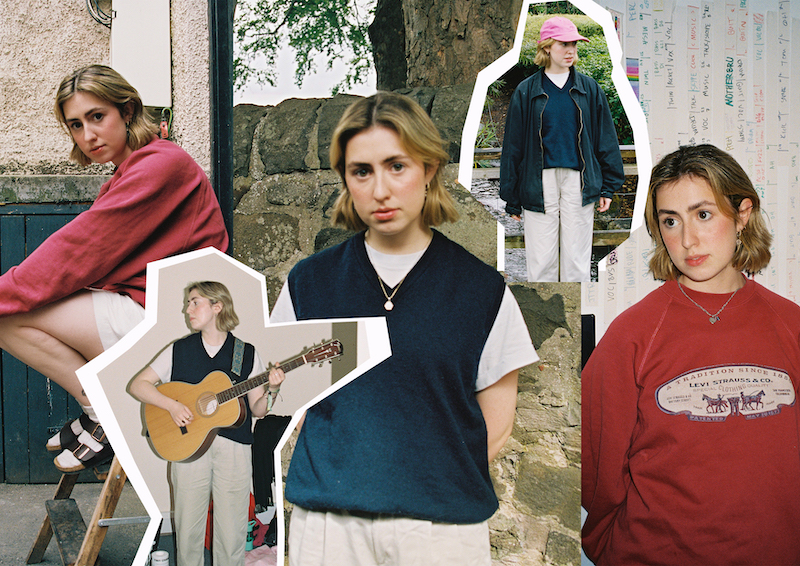 "But I'm wearing his boxers / I'm a good wife" Katie Gregson-Macleod croons on her song 'Complex (demo)' who ricocheted off TikTok, connecting with millions and reaching out to the likes of King Princess, Gracie Abrams, Camila Cabello and many more with her candid and honest lyrics. The song's official release debuted on the Official UK Singles Chart, with the original video garnering over 7.4 million views and counting. The Scottish Highlands (particularly Inverness where she grew up) are intertwined with her style of musical storytelling in more ways than Gregson-Macleod realizes – she shares: "There are very few things as personally and creatively fulfilling as these experiences and I hope I will continue to be involved in this scene because it's so inspiring and grounded as a musician. I'm so into words and storytelling – some of my favorite writers being Leonard Cohen, Joni Mitchell, Elliott Smith, for example – and a lot of folk music relies on storytelling in its rawest form. really intrinsic to the way I write, or at least the way I hope to write."
Gregson-Macleod didn't even expect a fraction of the engagement the song received, and believes its raw, unguarded nature is why it's connected with so many people, confessing: "The lyrics seem to have resonated with people in a way you only dream of as a writer and it took on a life of its own. It's that lovely, chilling moment when the words you've written so much about you -even in an instant become amplified to millions of people so quickly and many connect with it in their own way."
On how she got into songwriting and music, Gregson-Macleod shares: "It's one of those cliched lines, but I think writing and music have been around for as long as I can remember. I guess when I was really young it was in the form of writing little poems and songs to perform to reluctant audiences at family gatherings. , and as I got older I remember always writing music and singing. When I was about 7 I had my first guitar – a nice ¾ length purple nylon weapon – and there was a right in the house growing up as my mum is a piano player I count myself very lucky as music was such a big part of our household I guess.
On if his relationship with his first EP'Games I play has changed since she released it, she confesses: "Honestly, it feels like an eternity, which is weird considering it's only been a year and a bit now. I think there's always a self-condescending way of talking about early work – and there probably will be ten years from now looking back at this year's releases – but it's still something I'm really proud of. Having written the EP when I was 18/19, I think my songwriting has grown a lot since then, but I think a few of the songs from that project are still some of my all-time favorites, in especially with the layer of nostalgia attached to it. . Not to mention I did the EP on a £0 budget using my student loan. Every aspect of making the EP involved my buddies; produced with my friend Toby MacDonald, instrumentation added by my guitarist Erin Ferguson, photography by my friend Mark Piasecki. All of these things add up to mean that the project still means a lot to me, even if it is different from what I would release now."
On the global reaction to his song 'Complex (Demo)': "I didn't expect anything at all. It's crazy for me. I wrote the song in early August and put this video (what, 45 seconds?!) online thinking little about it. I wouldn't have anticipated even a fraction of the commitment, not to mention the people I follow and respect so much as song-related artists. It seems to me that it that's why maybe it happened, because it wasn't conscious and it wasn't promotion, so it was just completely unsupervised and raw The lyrics seem to have resonated with people in a way that you only dream of as a writer and it's taken on a life of its own. It's that lovely, scary moment when the words you've written so much about yourself in a snapshot literally become millions so quickly and many connect with it in their own way. I still can't believe it, I feel like I won the songwriter lottery.
On the lyrics"He extinguishes the great light," and the range of analyzes of the lyric: "I try not to analyze too deeply which lines people have connected with the most and which lines people have interpreted differently. It's so interesting and enjoyable for me to hear different interpretations of my words; they have adopted a life of their own beyond my experience. For me, this stanza was autobiographical, but there are ways that the act of turning off the "great light" means more to me than just that person who turns off the light to go to bed. I guess without going overboard it's about neglect and denial, among other things. It's still funny to me that "the big light" was such a topic of discussion because that phrase is used so commonly here and was taken as this symbol. I guess it's . It's ambivalent to me and I'm going to continue to be ambiguous about it."
Putting 'Demo' in the title of the official version: "It was important to me that this version was there, completely stripped down and existing in its rawest form. It's a live vocal/piano performance recorded together, with no tempo mapping and just slightly mixed. That's what what people tuned into in the first place and so what I wanted to do with it first. The demand for the song was there but I didn't want to rush out to produce a final version of the track in a few weeks, so this was important for me to put '(demo)' in the title and thus open up the possibility of releasing different versions of this song in the future. I won't say too much but I'm really looking forward to following the life of this song. That being said, I'm so happy with my little demo and it will always be special to me."
On what it is about the music that unites so many people: "Ah. The million dollar question. I can't be sure. online spaces. In the spheres that I find myself in, I feel that the element of storytelling is so important. The connection that people have with shared experiences through music is really powerful. When I had my moment viral with this song i really noticed how important the words were and i guess it highlighted for me how the music provided that line of connection through all these people who had completely different experiences It's the feeling that's the same. Beyond music based on lyrics, it sounds cliché but it's a language in its own right, it's completely universal.