PREMIERE: Jeorge II battles his own vices in raw video for 'So Help Me God'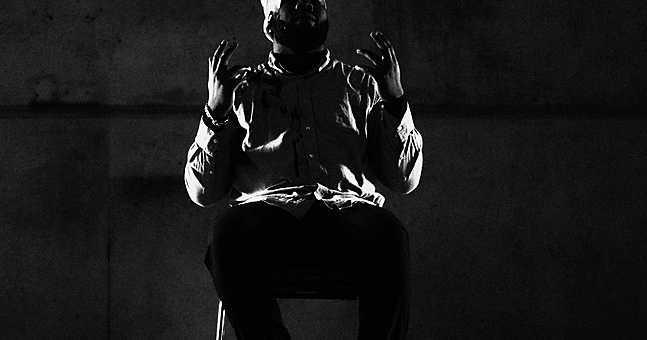 Directed by Nathan Sheridan, the black and white clip of Jeorge II uses movement to illustrate the addictive pushing and pulling of a struggle.
Hip-hop maestro Jeorge II is back with a bang, after a 12-month hiatus since the release of his latest work. Hot Press is delighted to preview a new artistic visual piece from the Irish talent, titled 'So Help Me God' and directed by Nathan Sheridan.
George Adegbuyi (Jeorge II) is currently trying to establish himself as one of the most captivating and lyrically gifted rappers on the scene, delivering fierce flows and scathing verses. The young sensation delivered spitfire verses with near-surgical precision on his 2019 EP Lowering, making him one of the most exciting and unique artists to emerge from the burgeoning Irish hip-hop community. Alongside his riot-inducing live performances, you might remember his head-spinning verse on Malaki's 2020 single "Horseman."
His boundless lyrics are on full display on "So Help Me God", with Jeorge II still managing to wear his heart on his sleeve while bringing a unique energy and character to his music rarely seen before. This powerful black and white piece tells the story of a tortured soul's struggle to balance life's bitterness with its sweetness.
It also serves as an allegory to combat one's vices. Sure, it can be an uphill battle to overcome his addiction – whatever it is – but at the same time, when caught up in this dance, the feeling is bittersweet. This is shown through the video's contemporary and emotional choreography.
Dancer Tobi Balogin appears in the gripping clip, while Jeorge II raps from a chair holding a baseball bat – battling his own fight as two assailants while spitting bars like: "Put in work on Sunday morning so help me God / they sold their souls for a little weight, but tell me what's the cost?"
Jeorge's wordplay atop the bass-heavy rhythm packs a medium punch, while Sheridan's directorial foray effortlessly portrays the meaning behind the track. This track also marks the first collaboration with up-and-coming producer DXEM, which features a haunting gospel/soul-inspired beat that complements the gritty lyrics.
"The song was originally going to be part of a guest rap series that I was supposed to do," Jeorge II told Hot Press. "After a while of writing, I didn't think it would fit the mood needed for the show, so I stuck with it. I finished the song but had no plans as to what it had to be done, but I knew I wanted something.I was on a break from work and started dreaming up ways to convey the message I wanted with contrast.
"A dance and a fight is the perfect example of this contrast", adds Jeorge II. "It's probably my favorite thing I've done not because of the quality of the song/video but the sense of accomplishment I feel when I think about how I came up with the idea while smoking a cigarette at work and now it's a physically tangible thing that exists in the real world.
"With the help of Nathan Sheridan and Tobi Balogin, this video came out exactly the way I wanted it to and for that I'm so grateful to these guys. It just shows from start to launch, there's nothing stopping you from being creative. You get out as much as you put in."
The effort is a statement track that sets a precedent for what's to come from the Dublin rapper in the coming months as he prepares to release more singles from his upcoming project.
"I left my heart on stage/I didn't need applause,", he raps. Well, we applaud it regardless. It's a huge piece of huge talent.
Check out the video for "So Help Me God" below.