New Jersey stage: daily edition 27/10/22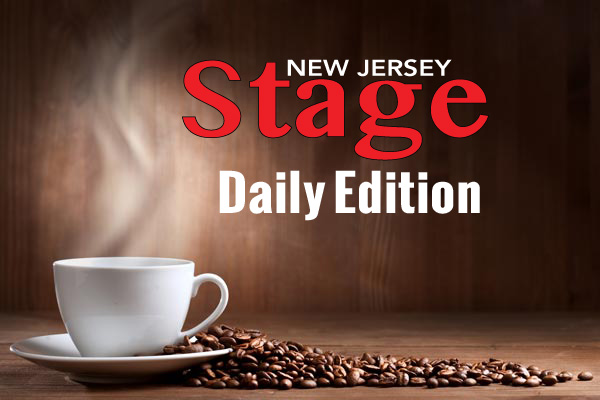 NEW | FEATURES | PREVIEWS | EVENTS
Here's the morning update from the New Jersey Arts Newswire. We regularly publish between 8 and 15 new articles and reports every day. No one covers the arts in the entire Garden State quite like New Jersey Stage!
If your arts organization sends out press releases, make sure you have [email protected] on your media list for coverage.
Rob Asaro's 'Lost Again' Will Have a Limited Tank Run

(NEW YORK, NY) — An unlikely couple travel across the country in the new play Lost Again. The limited series plays November 2-16 at Tank in New York City. The production is directed by Jay Michaels. Rob Asaro, a native of Morris County, NJ, wrote the piece.
---
PHOTOS of "The Play That Goes Wrong" at Dover Little Theater
(DOVER, NJ) – The smash hit The Play That Goes Wrong is presented by Dover Little Theater (DLT) over three weekends (November 4-6, November 11-13 and November 18-19). This hilarious piece is co-directed by Larry and Ruthanne Pelham. The Play That Goes Wrong introduces us to the Cornley Polytechnic Drama Society, an amateur theater troupe that puts on a new production every year. Photographer John Posada was on hand to take pictures.
---
Pushcart Players will present "Holiday Tales" at the Jersey Shore Arts Center
(OCEAN GROVE, NJ) — Pushcart Players, New Jersey's Emmy-winning traveling theater for youth and families, presents "Holiday Tales – A Season of Miracles" at the Jersey Shore Arts Center, Ocean Grove, on Sunday, December 12. 11 a.m. to 2 p.m. In the spirit of the season, Pushcart is designating the "Grandparents Day" event where tickets are free for any grandparent accompanied by a grandchild.
---
Bordentown Regional High School Presents "Charlie and the Chocolate Factory"
(BORDENTOWN, NJ) — The family play Charlie and the Chocolate Factory will be presented Saturday, November 19 at 2 p.m. and 6:30 p.m. at the Bordentown Performing Arts Center. This production will be performed by award-winning theater students from Bordentown Regional High School. Cookies and milk will be served after the 2 p.m. performance.
Advertise with New Jersey Stage for $50-$100 per month, click here for more info
---
---
AxelrodPAC presents "Avenue Q"
(OCEAN TOWNSHIP, NJ) — The Axelrod Performing Arts Center (APAC) opens its 2022-2023 season with a rather unexpected choice! A wacky, unconventional and hilarious musical with adult puppets, Avenue Q begins performances November 4-20. This piece tells the timeless story of a bright-eyed college graduate named Princeton. When he arrives in town with big dreams and a tiny bank account, he has to move into a seedy apartment at the very end of Avenue Q.
---
Black Box presents "The Play About The Baby" by Edward Albee
(ENGLEWOOD, NJ) — Black Box's next main show is a spin-off masterpiece: Edward Albee's The Play About The Baby. This hysterically funny yet mysterious and poignant play features a young couple and the absurd interruption when a strange man and woman appear. Performances are November 10-13, November 17-20, 26-27, and December 1-4. All performances are at 8:00 p.m.
---
West Windsor Arts Presents A Homecoming Concert by Avi Wisnia
(PRINCETON JUNCTION, NJ) – West Windsor Arts is once again welcoming singer-songwriter Avi Wisnia for a special evening of soulful music and intimate storytelling. The concert will be a homecoming for the award-winning musician, who has strong and sentimental ties to the West Windsor community. The art center is where Wisnia, whose music is an eclectic mix of 1950s West Coast jazz, acoustic American folk, Brazilian bossa nova and contemporary piano pop, performed there. ten years old when he released his first album, Something New.
---
The Newton Theater presents Big Head Todd and the Monsters
(NEWTON, NJ) – Big Head Todd and The Monsters tour the Newton Theater on Saturday, January 28, 2023 at 8:00 p.m.
---
Asbury Park Music History Fundraiser at Wonder Bar to Benefit Three Charities
(ASBURY PARK, NJ) — The roots of Asbury Park's historic music scene run deep for miles and miles. But the other side of Asbury that's just as deep (if not deeper) is the community of creatives, artists, and musicians who constantly support each other, while giving back to local nonprofits that preserve the heritage of the city. Whether you're a resident or visitor to Asbury, a musician or music lover, a supporter of the arts or someone who loves Asbury Park…you'll want to be at the Wonder Bar on Saturday November 19th for the fundraiser for the music history of Asbury Park .
---
'The Jersey Storm: Sandy in Monmouth County' premieres Friday at Monmouth University
(WEST LONG BRANCH, NJ) — As this week marks the 10th anniversary of the landfall of Super Hurricane Sandy, Monmouth County Clerk Christine Giordano Hanlon announced the movie premiere of The Jersey Storm: Sandy in Monmouth County will take takes place this Friday 28th October at 1.30pm at the Pollak Theater at Monmouth University and is open to the public. The 20-minute historical documentary will be shown as part of Monmouth University's Superstorm Sandy Anniversary events.
---
NJPAC presents two performances by the State Ballet Theater of Ukraine
(NEWARK, NJ) — The State Ballet Theater of Ukraine is recognized as one of Ukraine's most prestigious classical ballet institutions. The company is performing across America and Canada for the 2022-2023 season, including two performances at the New Jersey Performing Arts Center (NJPAC) this winter. This is your chance to meet 55 ballet dancers who represent the highest level of classical ballet art in the world!
---
Stevie Van Zandt and Wakaya Perfection Create Little Steven's Underground Apothecary
Stevie Van Zandt has partnered with wellness company Wakaya Perfection to create Little Steven's Underground Apothecary, a new line of teas, coffees and other holistic products now available exclusively through wickedcoolwellness.com. All products use Wakaya Perfection's range of single-source wellness ingredients, including Australian Manuka Honey, Organic Fijian Pink Ginger, Fijian Kava, Fijian and Nicaraguan Turmeric, Peruvian Maca and others locally grown and harvested items from small farms around the world.
---
Princeton's Day of the Dead festival returns November 5
(PRINCETON, NJ) — The Princeton Arts Council (ACP) is continuing its decades-long tradition of celebrating Día de los Muertos, or Day of the Dead, with a free outdoor community festival on Saturday, November 5 starting at 3 p.m. -5:00 p.m.
---
3rd Annual Holiday Art Market at the Jersey Shore Arts Center
(OCEAN GROVE, NJ) – The 3rd Annual Holiday Art Market at the Jersey Shore Arts Center will take place on Saturday, November 26 from 11:00 a.m. to 5:00 p.m. Over 30 vendors, a curated display of handmade crafts, prints, photos, cards, jewelry, woodwork, sewing, clothing, seashells and many more unique works.
Advertise with New Jersey Stage for $50-$100 per month, click here for more info
---
---
RVCC's Holocaust Institute to Host Online Book Discussion Group
(BRANCHBURG, NJ) — The Institute for Holocaust and Genocide Studies at Raritan Valley Community College will launch a new online book discussion group, "Books for Change," on November 11.
---
Warren Community College Visiting Authors Series presents Dawn Potter
(WASHINGTON, NJ) — Warren Community College's guest author series continues Thursday, November 10 with a reading by Dawn Potter. This event, in Washington Township, Warren County, begins at 7:30 p.m., is free and open to the public.
---
Veteran New York Radio Executive Adrienne McWilliams Joins WBGO
(NEWARK, NJ) — Effective October 31, Adrienne McWilliams will begin as WBGO's first business support manager. McWilliams has had a long career in broadcast advertising in the New York City subway market – beginning with local radio and expanding to national platforms, encompassing audio, digital and podcast.
---