Jon Batiste cleans up at the 64th Annual Grammy Awards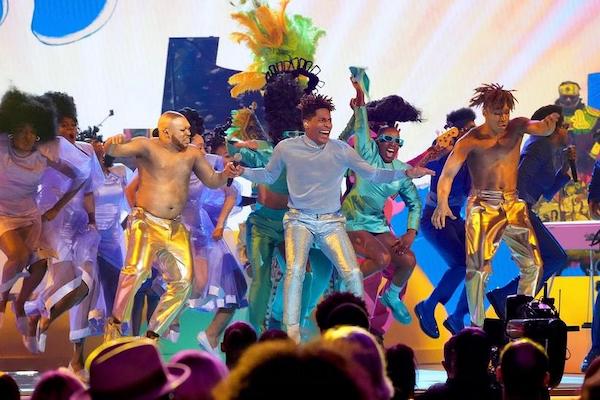 ---
By smashIApril 5, 2022

Jon Batiste was the big winner at the 64th Annual Grammy Awards, held April 3 at the MGM Grand Arena in Las Vegas. The revolutionary multi-instrumentalist and bandleader has won numerous awards, including album of the year.
Grammy winners in jazz, blues and beyond included:
• Best album of the year: Jon Batiste, We are
• Best music video: Jon Batiste: "Freedom"
• Best American Roots Song: Jon Batiste, "Cry"
• Best American Roots Performance: Jon Batiste, "Cry"
• Best Soundtrack for Visual Media: Jon Batiste, Soul
• Best instrumental jazz album: Gonzalo Rubalcaba, Horizon
• Best Jazz Vocal Album: Esperanza Spalding, Songwriters Apothecary Lab
• Best improvised jazz solo: Chick Corea, "Humpty Dumpty (Set 2)"
• Best Contemporary Instrumental Album: Tyler Eigsti, tree falls
• Best Instrumental Composition: Lyle Mays, "Eberhard"
• Best arrangement, instrumental or a cappella: Charlie Rosen and Jake Silverman, "Meta Knight's Revenge"
• Best Contemporary Blues Album: Christone "Kingfish" Ingram, 662
• Best Bluegrass Album: Béla Fleck, my bluegrass heart
• World Best Musical Performance: Arooj Aftab, "Mohabbat"
• Best World Music Album: Angélique Kidjo, Mother Nature
• Best album notes: Ricky Riccardi, The complete Louis Armstrong Columbia and RCA Victor Studio sessions 1946-1966
For a full list of this year's winners, visit The Recording Academy's Grammy website. comics
---
​Ron Miles: 1963–2022

The cooks are, from left, George Cables, Billy Hart, Donald Harrison, Eddie Henderson, David Weiss, Billy Harper and Cecil McBee.

Tierney Sutton, right, and Serge Merlaud.

New Orleans is gearing up for this year's return of the Jazz & Heritage Festival.

"Don Cherry had his own original thing going…and you can't replicate it," says Randy Brecker.