Ithaca College a cappella groups return to the stage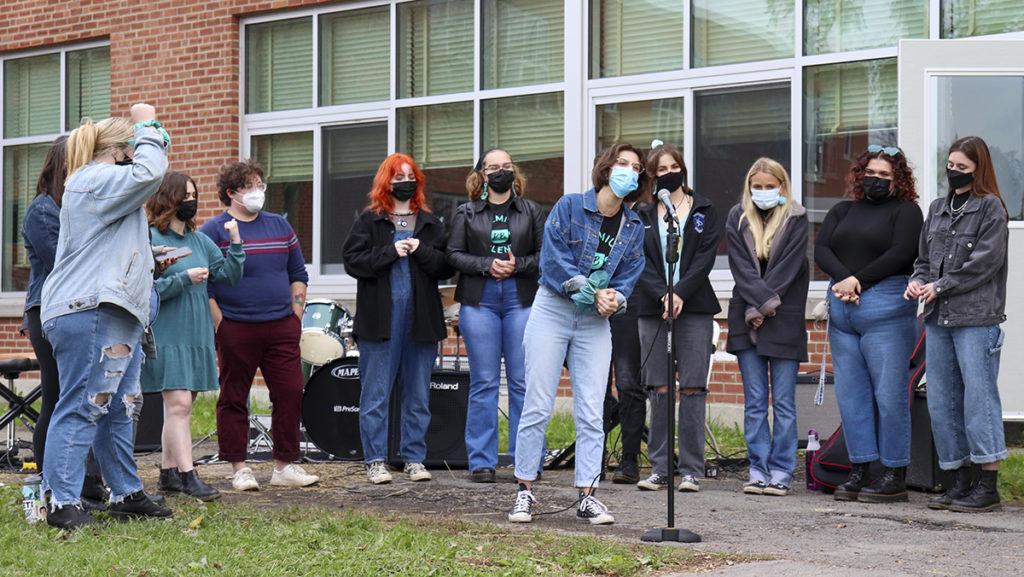 On entering a large concert hall, the lights go out and only a few illuminate a group of singers. With no instrumental music to accompany them, the audience hears only the group's voices as they begin their musical performance. These performances mark the return of Ithaca College a cappella groups to in-person showcases. Instead of the metallic, static audio of Zoom concerts, powerful band voices fill crowded concert halls.
There are five main a cappella groups on the college campus; Your cold, Voice flow, Premium Blend, Ithacappella and Pitch Please. Ithaqueappella is the only all-male group to identify a cappella on campus, Premium blend is the only all-female a cappella group in the school, while the other groups are all mixed.
The newest addition to the school's a cappella community is Tone Cold, a co-ed group, which officially started programming and auditioning in fall 2020.
Junior Allison Lewis, music director and founder of Tone Cold, said the band has a strong focus on collaboration by bringing different people together, including those who aren't vocalists. Some of the main events include the organization of karaoke nights, game nights and open rehearsals where everyone can come and listen to the band rehearse and sing along.
"We like to involve as many people as possible in the preparation of our concerts, from arrangers and choreographers to graphic designers, photographers and social media gurus, "Lewis said.
Fall 2021 is the group's first semester to host in-person events. Lewis said the group had gotten used to video auditions, Zoom calls and online showcases, but were excited to finally be able to perform on campus, with their next performance taking place at 7 p.m. on December 12. 5 in the Emerson suites.
Burke Hutchinson, president of Voicestream, said the group offers a place for voices of all kinds and people of all genders. The band prepared for their next performance after once again hosting rehearsals in person.
"Some of the other bands were able to maintain a lot of their attendance and continue to make music together. [during the pandemic], but Voicestream struggled to bring in rehearsal members, "said Hutchinson.
However, Hutchinson said the return to in-person rehearsals helped the members develop a new appreciation for being together..
"We all really wanted to move forward and rebuild this group together," Hutchinson said.
Junior Samantha Frieri, President of Premium Blend, said she was excited to be back in person and get back to some normalcy while trying new things. – something that the virtual has taught the group.
"It's really exciting to go out again… to let people know about us and the rest of the a cappella community," said Frieri. "We all try to support each other as much as we can. "
Frieri said the number of people accepted into the group each year varies between 14 and 18, and like most other a cappella groups, it is determined by auditions at the start of the academic semester.
Frieri said the group had a virtual showcase last semester, which was hard to repeat. But she said the group were able to adapt to isolated rehearsals and online auditions by recording themselves separately and bringing everyone's voices together to make a vocal arrangement.
"It was really, really difficult," said Frieri. "Being virtual has allowed us to see new ways of delivering our music and performing. "
Ithacappella is the oldest a cappella group on campus, founded in 1996. In the past, the group has helped raise funds for The Trevor Project, the Born This Way Foundation, and the Ali Forney Center in New York City, respectively.
Junior Christian Castro, president of Ithacappella, said the group regularly toured, competed and performed for primary schools. Castro said switching to a virtual setting during the pandemic was difficult for Ithacappella, as the group's energy began to wane.
"We kind of call it the Forgotten Year because we don't think it actually happened," Castro said. "Nothing happened, pretty much… when we finally got to meet in person, it was more about reconnecting."
Freshman Jaiden Collier, one of six new members of Ithacappella this academic year, said he was excited to see where the group takes him.
"[Being in person] makes me happy, "Collier said. "The fact that we can even be here and sing together is always something important to consider."
Sophomore Lily Greco is one of the latest additions to Pitch Please, the college's only audition-less a cappella group. Greco said joining the group has been one of the best experiences she has had in college so far.
Greco also said that Pitch Please is close to all the a cappella groups on campus. Greco also participates in e-board meetings for Pitch Please. Greco said the meetings help keep communication between the different groups, especially when discussing the budget, song selections and upcoming concerts.
"We help each other during each other's concerts," said Greco. "I'm looking forward to our concert on December 3rd… I can't wait for everyone to see all the work we've done since the start of the year. "