Iron & Wine happy to play sad songs for an intimate egg crowd in Albany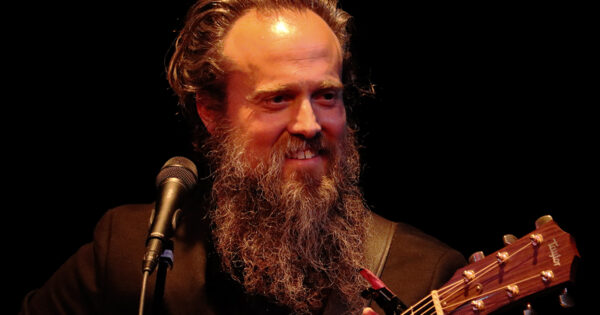 Critically acclaimed singer/songwriter Sam Beam, better known by the stage name Iron & Wine, paid a long-awaited visit to the Capital Region on Sunday evening, bringing the 'Back to Basics Tour' to a host of Swyer Theater mostly sold out at the egg. Delivering a masterful set of original music while setting up a clinic of "cool," the thought-provoking and intriguing show was the kind of thing every fan of modern folk music dreams of. Straddling the line, but still finding the balance between intensely personal pain and light-hearted laughter, the stripped-down performance was nothing short of mesmerizing.
The evening began with a brief opening set by singer/songwriter Hannah Cohen who was wonderful in her own right. Quickly mentioning how nice and clean the place was, for some reason it made him want to get dirty and swear out loud. "Fuckitdy fucking fucking fucking fucking," she blurted out, breaking the ice as the audience erupted in laughter. After playing her first song, she told the crowd "It doesn't work for me, you're just way too quiet. You always hope for an attentive audience, but what do you do when you get one? she reflected. Her beautiful, delicate voice juxtaposed with her raw sense of humor, foul language and a "tongue in cheek" invitation to pass one of her smelly shoes around the room for anyone who wants a breath of fresh air, it's all done. for a memorable opening act for an artist worth watching.
After a brief intermission and the usual dimming of the lights five minutes before the show starts, just a stool, a glass of water and a rack full of Taylor acoustic guitars set the stage for the evening's headliner. No flashing lights, no fog machines, no video projections. Just a soft-spoken man named Sam and his signature "Rick Rubin-esque" beard. Taking the stage to hearty applause, Iron & Wine surveyed the audience as they tuned in, asking where everyone was coming from and basically letting them know that it was okay to let loose a little and d 'interact. "They say I'm a folk singer, which isn't quite true. But I don't care, if it fits, it fits.
After a bit of noodle-on-nylon, Iron & Wine opened the set with a heavy subject in the form of "South Georgia Sodom", presumably acknowledging that it was a Sunday night during the coldest month in Australia. winter. The well-mannered crowd clung to every word in utter silence from the start, then unanimously erupted in approval on the song's final note, a standing ovation so loud that even Sam looked startled. "Oh, it's going to be that kind of night. Okay Albany, I see you. As a performer, you have no idea how loud that kind of applause is," Beam said. "But no matter how many times I've played this next one, all the applause in the world won't stop me from ruining it all."
Alone and vulnerable on a dark stage, Sam screwed up, even stopping mid-song at one point and telling us there were so many chords to remember. "I probably should have trained." Charming in its honesty, it's part of what makes Iron & Wine so endearing and accessible to new and old fans alike. "It's okay Sam, we still love you!" shouted a female voice near the front. "Thanks for coming, Mom," Beam immediately replied with a sharp wit. "I'm so glad you got to go out tonight." A joke that made everyone laugh and which he would play for the rest of the show. Beam's personality still shines through, despite a setting made of mostly melancholy material. "Now I don't know about you," he joked, "but when I think of uplifting albums, the ones you can throw in the gym, I think we know who's on top. Those little pieces are fun, aren't they? For some people."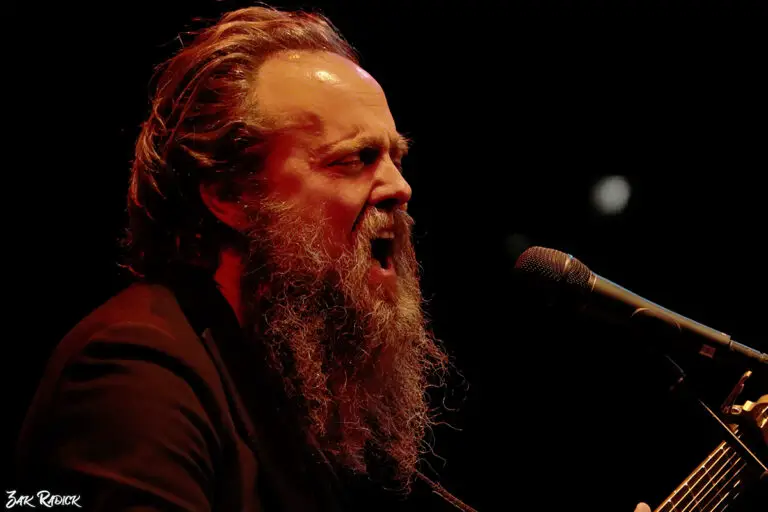 Some call it talking blues (talking blues)
Some call it bitter truth
Some call it revenge in a song

I can't read it, I didn't mean it
How you would rage how wrong I was
Life's too short, and you'd stay too long
Let's be honest, we were the strongest until I let you pull me down
I was sorry then, I'm not now

You better love yourself, cause I tried

-Hard reality
"What a weird job. You can talk bullshit and people will cheer. It's amazing, you should try. Just go to your job and fuck up whatever you're trying to do, curse and to see what happens. You never know, you might get rewarded like me? That's crazy. And with that confession came perhaps the standout song of the night and also the biggest hit in the brilliant Iron catalog. & Wine; a unique and haunting vocal rendition of "Flightless Bird, American Mouth". Featured in Hollywood's hit Twilight Saga, the song currently has over 162 million streams on Spotify alone. Claiming that vampires have since long a great muse for songwriters, he's very aware of the claim some people have to seeing his music, "It's pretty crazy writing these songs and putting them out. You don't know who it lands on." Sometimes it lands pretty hard and you have no idea. I just want to say thank you.'"
In total, Iron & Wine played a total of 16 songs spread across 10 albums. Fans were also treated to an as-yet-unreleased song titled "Why Hate Winter." Other notable highlights include "Grace for Saints and Ramblers," Each Coming Night, "Autumn Town Leaves," "Call it Dreaming," and the closing set "Waitin' for a Superman."
The story that the setlist doesn't tell, however, is what the audience brought to the table. Although it may have been a one man show consisting mostly of slow, sad songs, the crowd was fully invested and buzzing all night. A mutual back and forth of energy through improvised banter, a bit of beatboxing and lots of mutual laughter was the variable that really made the show something special. Combined with a carefully crafted setlist made just for Albany, you won't get that same show next time, or in the next city. While Beam's acting hasn't always been perfect, he's a perfect example of a personality that goes a long way and that it's somehow possible to turn heartbreak into success. A special kind of artist who can change the way you think and how you feel. I dare say whoever was at the Swyer Theater on Sunday night left The Egg a different, more complete person.
Then for Iron & Wine, a few weeks off before hitting the road for the rest of the Back-to-Basics tour. After that, Beam will join his ultra-talented pal Andrew Bird for the recently announced Outside Problems tour. The co-headlining ride is expected to take the two acclaimed performers to more than 25 cities later this summer, including stops at Pier 17 in New York City as well as the Beak & Skiff Apple Orchard in LaFayette, New York. Smart money says you won't want to sleep on this one.
Iron & Wine / Feb 27, 2022 / Swyer Theater at The Egg, Albany, NY
set list: South Georgia Sodom, Follow the Water, Lion's Mane, Bitter Truth, Lover's Revolution, Every Coming Night, Flightless Bird, American Mouth, Autumn town Leaves, Woman King, Resurrection Fern, Rabbit Will Run, Grace for Saints and Ramblers, Why Hate Winter, Call It Dreaming, Waitin' for a Superman.
Bis: Ash and Smoke