Interview: Goner talks about "All Ur Best Friends" ft. Lil Xan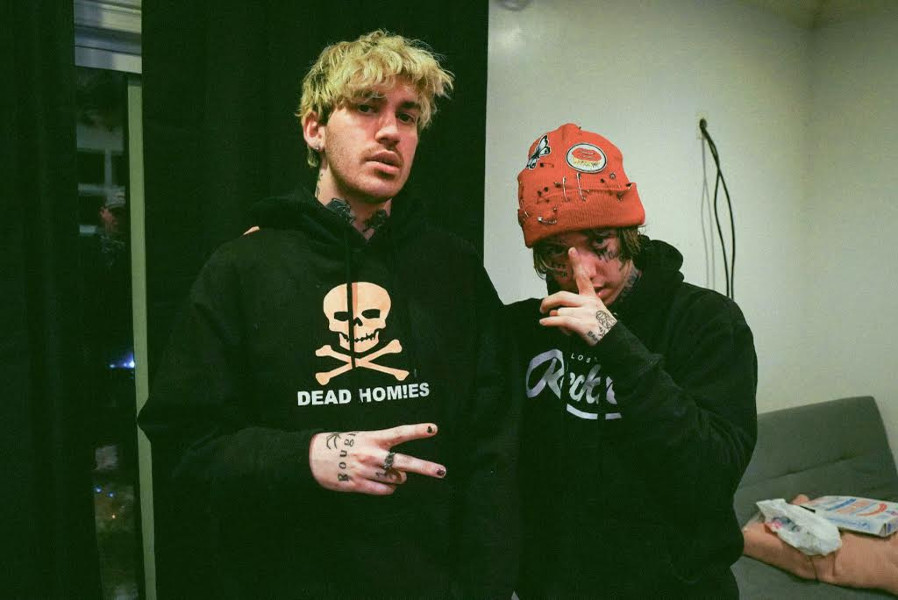 Goner and Lil Xan team up on their recently released brand new track, "All Ur Best Friends", via Cleopatra Records.
Speaking of "All Ur Best Friends," Goner shares, "I made this song during quarantine, after dealing with a tough breakup that led to a lot of internal issues. In this song, I'm just expanding on the fact that I can continue to see people from my past follow what I do. With a different lifestyle than normal, everyone likes to leave when things aren't going "well" and they always come back when things are going well. This song is about me talking about knowing my worth.
Along with his underground cult following, Goner's previous hits like "I know U know", "Know Me" and "Break" blew him up. Anyone who listens to music knows Lil Xan, the force behind "Betrayed", "Color Blind" and "Slingshot", as well as his latest EP, Have a good day.
Both hypnotic and pulsing with heart-pounding energy, "All Ur Best Friends" chronicles how Goner is aware that his ex and his friends are following his budding career on social media.
CelebMix sat down with Goner to find out more about his early days in music, his influences, and his definition of success.
What are three things you can't live without?
Some things I can't live without would definitely be music, weed, and my friends. I think these 3 things keep me going more than anything.
What inspired your new single, "All Ur Best Friends?"
The inspiration for this single is definitely a hard break and the need to talk and flex a bit. Kinda show that, yes, I messed up a bit but I know my worth.
How did you come into contact with Lil Xan?
In fact, we originally met at a Halloween party in Malibu in 2019, since then we've connected on social media and had the chance to collaborate on this track thanks to my good friend and A&R Kyle Perera of Cleopatra Records.
How did you start music?
I started in music in 2018 as a photographer in the Florida music scene. I would do a bunch of festivals including Ultra, EDC and many others that really inspired me to try to do it myself.
Which singers/musicians have influenced your sound?
I like to think there are so many influences for my music that it's hard for me to narrow it down, but definitely Lil Peep, XXXtentacion, Blink-182, Blackbear and many more.
If you had to explain your sound to the uninitiated, what would you say?
I would say my sound is emotional rap. I put a lot of real emotions and feelings into it, but I also like to talk my bullshit and flex a bit. So I think I definitely tend to have two sides sometimes.
Did your sound evolve naturally or did you deliberately push it in a certain direction?
My sound has evolved naturally with what becomes of my interests and what I find inspiring, but there are definitely times when I have a specific idea or feeling that may be unorthodox to my "habit", so I think that at times like these I tend to push a little in a certain direction.
What inspires your writing? Are you inspired by poetry, music or other media?
I'm inspired by so many things, but definitely other musical, artistic and life experiences like the top I would say. Lots of world news and issues, political opinions and human rights movements inspire me because I'm so keen on using my platform to the best of my ability. I strive to get people to see what they could do to improve the world around them.
What can you share about your writing process?
My writing process is always all over the place, I write about my own experiences, experiences I've heard of or even sometimes I like to run with a narrative and turn it into a story.
Which artists do you think are killing it right now?
I LOVE so many artists, but I think my favorite thing to see recently is friends like JELEEL really starting to show up. I love seeing people I know personally get mainstream attention and get what they deserve.
how do you define success?
Success for me varies, but personally, as long as I'm happy with myself and doing whatever I can to take care of my parents or friends around me, that's really what I care about. I think a lot of people get too easily carried away by "explosions" or numbers, and if you're constantly chasing them, I feel like you'll never be motivated by where you are.
What can your fans expect over the next six months? New material? Live concerts?
My fans can expect anything possible. I'll be releasing a bunch of new music and playing a lot of shows and music videos. I'm really excited to see them in person and feel their energy at the shows because from what I've already experienced, this is the best high I could ask for. So much more to come, this is just the beginning.
Follow Goner Instagram | Spotify
Follow Lil Xan on Instagram | Spotify