Home: David Shrubshall | Melton and Moorabool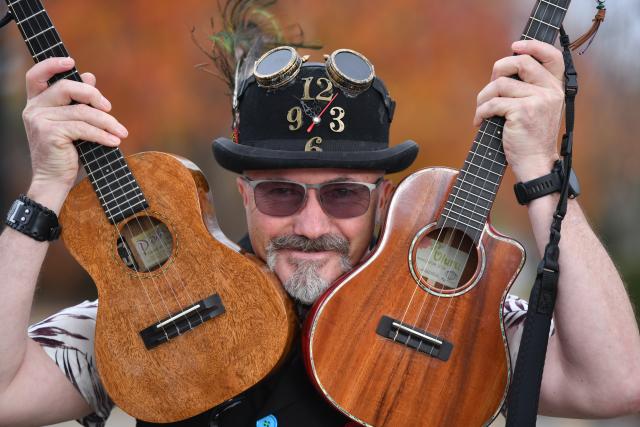 David Shrubshall is a member of Bacchus Marsh & Melton Ukulele & Singing Ensemble (BMUSE) and enjoys performing his music for audiences across the region, as well as sharing his songs online on his Youtube channel. He spoke to journalist Olivia Condous about his love of the ukulele and all the different ways he likes to share his music.
What is your connection to Melton?
We have lived in Melton for about 20 years. I like how Melton has the character of a country town and surrounding parks, but most of the facilities you'll find in a downtown suburb. Many of my instrumental music videos are filmed around historic Melton Shire parks, often filmed between COVID lockdowns, in places such as Hannah Watts, Navan Park, The Willows Historical Park, Melton Reservoir and Melton Botanical Gardens. It allows my YouTube subscribers here and abroad to get a view of the area we live in. I also play music at businesses in Melton, trying to get them some more traffic like Jeff Jones Plants & Produce, Vinnies Op Shop in Bakery Square and the Eynesbury Mother's Day Classic. In the spring, I will continue to approach cafes and retail businesses to try to attract customers.
What's your favorite local place to hang out?
I often go to Navan Park and practice songs on the ukulele, on the wooden bridge, under the trees. I saw people waving as I passed and a family sat down and had a picnic near me. I also like Hannah Watts Park and Melton Botanical Gardens to practice. During the warmer months, I will start playing in the business district.
Tell us something people would be surprised to know about you…
A long time ago, I spent about ten years in amateur theater at Sunbury (Sunbury Theatrical Society). There I had the opportunity to write, act, direct, direct and produce. It was a great time, shared by like-minded people. (I was the first producer to stay on budget for a musical!). They are now known as the Boilerhouse Theater Company.
How did you get involved in BMUSE?
I have been playing ukulele for about 5 years, more regularly in the last two years with the creation of Ukulele Dave Down Under. Self-taught, with the help of many ukulele instructors on youtube. After I started playing with the ukulele, I had heard of a local uke club. I checked the Melton Council and found there was a band called Bacchus Marsh Melton Ukulele and Singing Ensemble. I contacted them, and as they say, the rest is history. They are lovely and helpful people who share a common passion and were very helpful. BMUSE welcomes new members and also does local community work with schools, retirement homes, etc.