Appalachian Music is the soundtrack of Valle Country Fair | Mountain timetable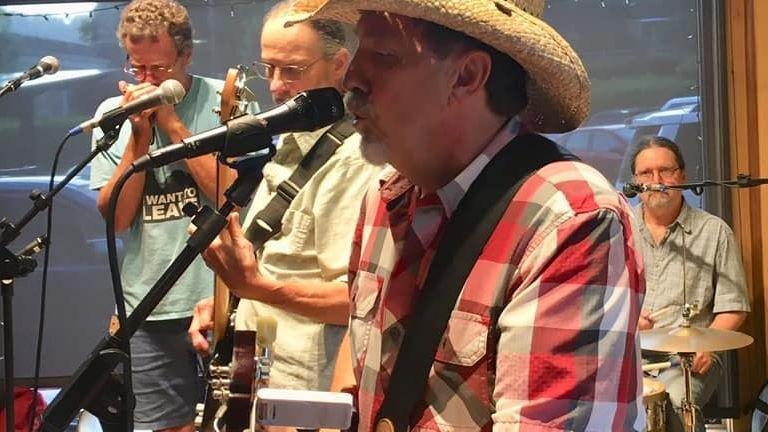 [ad_1]
The 43rd edition of the Valle Country Fair returns live on Saturday, October 16, when the community comes together for a craft festival in the great hayfield of NC 194 from the Valle Crucis Conference Center to raise funds for the people in need.
Like the neighbors who volunteer to serve sausages, bake cakes, and toss apple butter, more than half a dozen bluegrass, country, and gospel bands donate their time and talent to entertain festival-goers and provide the background music for this famous fall fundraiser.
"For me, and I think for other musicians, I like being part of a real community party," said singer-songwriter Brooks Forsyth of Boone. "Musicians who volunteer to play at the Valle Country Fair could easily get paid concerts on the third Saturday in October. Choosing instead to perform at the Valle Country Fair allows us to be part of the long tradition of giving back.
Growing up at Holy Cross Episcopal, the church that hosts the Valle Country Fair, Forsyth has been performing for Valle Country Fairgoers enthusiasts since before the turn of the last century. "I had to work until playing on the main stage during prime time," Forsyth teases. "I had to pay my membership fee to Valle Fair!
"I started singing with a church group while the event was still taking place at the Apple Barn," Forsyth added. "Then I played with a magician, a kind of prop. I finally climbed to the clogger scene, performing at 8am. I remember my first time on the main stage, it felt like I was hitting the big bang!
The music starts at 9 a.m. with the High Country Boomers. Farrell Sheppard de Vilas and Kathy Burton of Banner Elk chose this name because they sing songs from the 1950s to today, songs familiar to babies and baby boomers. The Boomers combine well-mixed vocals with the bluegrass musicality of Sheppard on guitar and Burton choosing the square neck Dobro.
Tom Shirley, originally from Boone, performs American music with a Christian influence. With her energetic mix of original songs and covers of rock n 'roll classics, Shirley has been pleasing crowds at the Valle Country Fair for years.
Merging two Avery County families (brothers Colton, Walker and Jaxton Boone and Lynn Church with sons Ethan and Eli), the Boone & Church Band inspires audiences with their bluegrass gospel and wows them with their ultra-bluegrass instrumentals. fast.
The New River Band includes, from Durham, Clint Brooks on vocals, guitar and violin; Chapel Hill, Nat Smith on double bass and John McNeal on vocals and guitar; and from Carrboro, Al Segars on the banjo. The heart and soul of the band is Appalachian bluegrass and folk music, but it's not uncommon to hear a Beatles or Rolling Stones song played "bluegrass" in their set.
Yesteryear tunes are the strength of Fifteen Strings Attached, a Boone trio of Mike McKee on guitar, Noah Williams on violin and Grayson McGuire on banjo.
Professors Avery JAM complete this day full of music. JAM, Junior Musicians of the Appalachians is an after-school program for grades 4 to 12 that introduces music through small group instruction on Appalachian instruments. JAM teachers who perform at the fair, including Bobbie Willard, Jennifer Moore, Karen Magner, Greyson Wickel, Floyd Townsend and Dwight Woody, love Appalachian music with a passion and dedicate their free time to pass this passion on to another generation. children of the Appalachians. In addition to preserving our Appalachian culture, experience shows that discovering their musical heritage helps young people develop pride in their Appalachian roots, while the individual attention of adults like Avery JAM teachers helps young people. to boost their confidence and self-esteem.
Together, the musicians performing at the 2021 Valle Country Fair epitomize the community values ​​of Appalachian culture celebrated at the Valle Country Fair.
"The fair sponsors really appreciate these musicians who donate their time and talent to this cause," said Floyd Townsend, chair of the Valle Fair Music Committee. "The performers do this to give back to the community, but they also get a lot of fun in return for performing in front of this generous and enthusiastic audience. "
The mission of the Valle Country Fair is to raise funds for charities and church outreach in Avery and Watauga counties. During its first 40 years, the Foire de Valle raised over a million dollars to help those in need.
The Valle Country Fair will be held on Saturday October 16 in a large pasture located off NC Highway 194 between Valle Crucis and Banner Elk. Entrance to the fair is free and parking is available in the adjoining field for $ 10 per car, $ 25 for a small bus or van, and $ 50 for a coach. Sorry, but animals are not allowed at the Fair.
The event is sponsored by the Holy Cross Episcopal Church in cooperation with the Valle Crucis Conference Center. All profits are used in the service of people who need help. For more information, contact Holy Cross Church at (828) 963-4609, or click to www.vallecountryfair.org for the full performance schedule and trade show updates.
The media sponsors of VCF 2021 are Curtis Media Group and Mountain Times Publications.
[ad_2]